Dr. Steven Carr Reuben has been involved in the field of spiritual education for over twenty-five years. He holds two Bachelors degrees, two Masters degrees,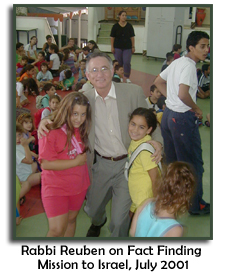 Certification in Aging and Human Development, a Ph.D., and two honorary Doctor of Divinity degrees. He was ordained as a rabbi in 1976. Dr. Reuben was a founding editor of Compass Magazine for teachers. A recognized expert on moral education who has appeared on countless television and radio talk shows, he travels the country lecturing on character education and the challenges of interfaith relationships.

Dr. Reuben is the recipient of numerous community awards, including the Micah Award for founding the largest full-service homeless shelter in Los Angeles. He has contributed to a wide variety of publications as an author and composer, and he writes a regular column for L.A.Family Magazine. He is the author of numerous books, including RAISING JEWISH CHILDREN IN A CONTEMPORARY WORLD (1992), MAKING INTERFAITH MARRIAGE WORK (1994), and RAISING ETHICAL CHILDREN (1994), published by Prima Publishing, and CHILDREN OF CHARACTER - Leading Your Children to Ethical Choices in Everyday Life (1997) published by Canter & Associates.

He currently serves as Rabbi Emeritus of Kehillat Israel, The Reconstructionist Congregation of Pacific Palisades, California. He is married to Didi Carr Reuben and is step-father to Gable.
Rabbi Reuben Officiating a Wedding
Theary & Evan | Wedding Instahighlight from D. Park Photography on Vimeo.